June 24th, 2009
Brenda Bence, internationally-recognized personal branding expert, will be a guest on Bonnie D. Graham's Radio Show Monday, June 29, 2009. Be sure to tune in at 7:35 P.M. (EST) and discover how to build powerful a personal brand that can get you a new job faster, despite the economy . . . Don't miss it!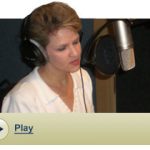 www.BlogTalkRadio.com/BonnieDGraham

This entry was posted on Wednesday, June 24th, 2009 and is filed under
News and Press
.