Tuesday, April 19th, 2011
Internationally-recognized branding expert and award-winning author Brenda Bence has earned the designation of Certified Speaking Professional (CSP). The title is conferred by the National Speakers Association and the Global Speakers Federation, which are recognized as the world's leading professional speaker associations. Fewer than 10% of the organizations' members receive this honor.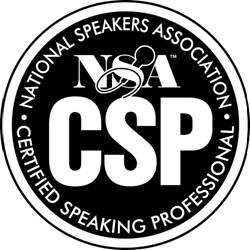 The CSP designation was established in 1980 and is given only to those speakers who have earned the title based on their accomplishments in the field of professional speaking. CSPs must meet strict criteria, including a documented track record that proves expertise, impeccable ethics, exceptional client service, and commitment to ongoing education. CSP designees must also serve a minimum of 100 different clients within five years and present a minimum of 250 speaking engagements within that five-year period. Ratings from satisfied clients also play a significant part in choosing those who will receive the title.